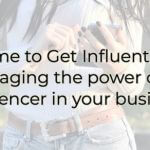 Influencer marketing is a powerful strategy for businesses looking to reach a wider audience and build brand awareness. But it's not just for the big guys. You can leverage the power of the influencer even as a small business. You may not have the pockets to bring in Michael Jordan, but you can build an audience by working with (smaller) influencers.
Before we get into how you can use influencers, let's address the influencer in the room. Where are these minor celebrities and how do you work with one?
Where to Find Local Influencers?
First, you can approach all kinds of YouTube phenoms and other social media influencers, but unless you have a deep pocket and plenty of perks to pass along to them, they may be out of your business's reach unless you have an appeal that is largely emotional for them. But that doesn't mean you have to give up on influencer marketing. Instead, shift your focus to a more localized appeal and look for people in your community who have large followings, are vocal on community sites, and can help you amass appeal.
Here are a few channels to find local influencers:
Social Media Platforms: Sites like Instagram, Twitter, TikTok, and Facebook are great places to start your search for local influencers. Use search and hashtags to find influencers in your area or search for popular accounts in your niche and look for those in your region.
Local Events: Attending local events (like what your local chamber hosts) and networking with others can help you discover influencers in your area. Look for events in your industry, niche, or interest such as conferences, trade shows, and meetups. Don't forget to attend events that your ideal audience would enjoy. If you own a comic book store, for instance, attending the local Comicon can help you find influencers.
Online Directories: Check online directories and databases of influencers and search by location. Sites like Buzzsumo, Followerwonk, and Influencer.co are good places to start.
Google Search: Google search can also be an effective way to find local influencers. Search for keywords related to your business/industry, along with your city or region.
Referrals: Ask for referrals from other local businesses or individuals who may have worked with local influencers in the past. This can help you find trusted and experienced influencers who are a good fit for your brand.
Resources for Approaching Influencers
7 Proven Tips To Get Influencers To Promote Your Brand On A Budget
How to Reach Out to Influencers For Collaborations
What is influencer marketing: How to develop your strategy
Now that you have a few sources for scouting influencers and know how to approach them for the greatest success, what should you do with them to build your audience?
4 Ways to Work with Influencers to Grow Your Brand
Sponsored Content: Sponsored content involves paying an influencer to create content that features or promotes your product or service. For example, a fashion brand might pay a fashion influencer to feature their clothing in a post or video.
Social Media Takeovers: Social media takeovers give an influencer temporary access to your social media accounts to create content and engage with your followers. This can help increase your reach and attract new followers who are interested in the influencer's content.
Product Reviews: Influencers can review products or services and share their thoughts and opinions with their followers. This can help build trust and credibility with their audience and attract new customers to your business. However, a good influencer is going to give an honest review. Be prepared for that. Hopefully, they'll give you a heads-up if there's anything less than stellar, so you have the time to digest it.
Giveaways and Contests: Working with an influencer to run a giveaway or contest can help attract new followers and increase engagement. For example, a bookstore might partner with an author to run a gift card giveaway because an author's audience is comprised of readers.
Affiliate Marketing: Affiliate marketing pays influencers a commission for every sale or lead they generate for your business. This can be an effective way to incentivize them to promote your product or service to their audience.
You can work with influencers in many ways to build an audience. By partnering with the right influencers, you can reach a wider audience, build brand awareness, and ultimately drive sales and revenue all while having some fun.