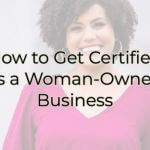 If you're a woman who owns a business and you'd like to apply for federal contracts, getting officially certified as a woman-owned business is essential. The federal government's goal is to award at least 5% of its contracts to women-owned small businesses each year. While the certification process may seem daunting, it's not that difficult if you know the basic application rules and materials needed.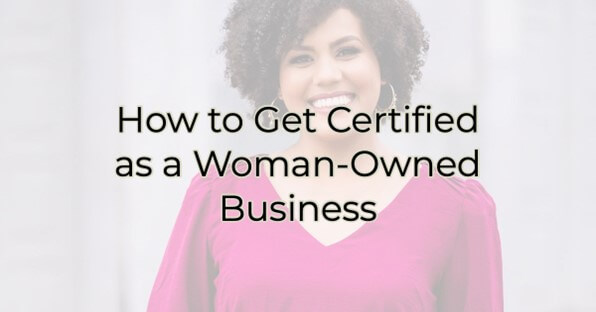 Two Kinds of Certifications
There are two types of women-owned certifications, Women's Business Enterprise (WBE) and Women-owned Small Business (WOSB). WBE is a designation that many private sector businesses and organizations, and some state and local governments use. To be given this designation, you must apply through one of the Small Business Administration's (SBA) third-party certification partners.
WOSB is a designation used by federal government agencies. Under the WOSB designation, you may also be qualified to apply for an Economically Disadvantaged Women-Owned Small Business (EDWOSB) designation.
How to Apply for WOSB Certification
The certification process for these designations changed in 2020. While there is a lot of paperwork involved, the federal government has done a lot to streamline the process.
Verify that you meet WOSB eligibility requirements, which are:

Be considered a small business by SBA size standards
Be at least 51% owned and controlled by women who are U.S. citizens
Have women manage day-to-day operations and make long-term decisions

Gather the materials you will likely need to apply. These may include things like:

Company name and/or "Doing Business As" (DBA) name.
Owners' names, addresses, and company website.
The company's legal designation/structure. For LLCs, articles of organization and operating agreements.
Incorporation date.
A list of each proprietor, partner, shareholder, or member within the 12 months leading up to application filing.
Affiliate relationships.
Business and personal loans.
Birth certificate, current passport, or naturalization papers.
Driver's licenses of all owners.
EIN (Federal Tax ID).
Resumes of all owners, directors, partners, officers, etc.
Current bank statements and financial institution signature cards.
Documentation on how the company was funded.
Financial statements for three years, including balance sheet, profit & loss statement.
Tax returns for the past three years.
Authority to conduct business in the state and certificate of good standing issued by Secretary of State.
Articles of incorporation and articles of amendments filed with the Secretary of State.
Bylaws and amendments.
Statement of information filed with Secretary of State listing officers, directors, managers, members, or general partners.
Partnership agreements.
Professional, industry, and/or business licenses.
Copy of lease or deed for business location, if applicable.

Apply online through the self-certification tool and complete the process. This site also provides a wealth of resources to answer your questions.
Upon receipt of the full application and paperwork, the SBA usually decides to grant or deny the designation within 90 days. Incomplete packages may require additional documentation before a decision can be made.
Once approved, you will need to maintain your designation with annual recertification.
While there are about 13 million women-owned businesses in the US, only 4,800 are certified as WOSBs. With the increasing visibility into data and the government's goal of providing funds for small and minority businesses, this is an ideal time to get certified.