The Citrus County School District (CCSD) where, "Learning is the expectation and caring is the commitment", serves approximately 16,000 students in pre-school through grade 12 across twenty-two campuses. The school district spans the cities of Inverness and Crystal River and incorporates communities such as Beverly Hills, Citrus Springs, Floral City, Hernando, Holder Homosassa, and Lecanto. Under the direction of Superintendent Sandra "Sam" Himmel, who was named the Florida 2020 Superintendent of the Year by the Florida Association of District School Superintendents (FADSS), Citrus County schools have been consistently ranked among the top public schools in Florida. CCSD was named one of thirteen school districts in the state designated as an Academically High Performing School District by the State of Florida. The district was also recognized with the Florida Healthy District Award, achieving silver status by promoting health and wellness for students and staff using the Center for Disease Control's (CDC) Coordinated School Health model.
Academy of Environmental Science
The Academy of Environmental Science (AES) is a niche public charter school located on the beautiful Salt River along Fort Island Gulf Trail in Crystal River. Students apply to participate in this program during 9th and 10th grades to experience a rigorous, hands-on learning environment that teaches students about protecting Florida's Nature Coast.  Highly qualified subject area specialists bring content to life through firsthand exploration of waterways and wetlands by kayak and canoe. AES also offers SCUBA certification as part of the curriculum, one of the few schools in the United States to do so.
Citrus High School – Academy of Computer Science
Citrus High School has a rich history dating back to the 1800s. The school's commitment to utilizing innovative instructional practices ensures students face positive challenges to prepare them for a successful future. The Academy of Computer Science is a four-year program where students earn Microsoft Office Specialist certifications, learn coding using Python programming language, along with completing Advanced Placement courses.
Crystal River High School – Health Academy
Crystal River High School was built in 1969 to accommodate the growing number of students on the west side of Citrus County. The Academy of Health assists students into post-secondary education by providing them with an up-close look at various careers in the medical field made possible by working with medical professionals and partnering facilities. Coursework includes Dental Aide, Emergency Medical Responder, Emergency Medical Technician, Nursing Assistant, and PTLW Biomedical Science.

Lecanto High School – International Baccalaureate, and School of Arts
Lecanto High School, located in the fast-growing central region of the county is an International Baccalaureate World School. Students are often accorded advanced standing and up to 30 college credit hours based on the IB diploma. The School of Arts, with its versatile animation program, prepares students for 'creative-based' tech careers, graduating fully certified in two industry level software programs while completing college-level work. This program opens a world of possibility not only for the students but also for businesses looking for well-trained, inspired employees.
Pace Center for Girls
Pace Center for Girls opened its doors in Citrus County in 2019. Aimed at providing academic and counseling services for young ladies beyond those in a traditional school setting, PACE offers a full-day academic curriculum plus wraparound counseling services the student and family may need. Pace offers students opportunities for community service and positive interaction with local professionals who serve as role models for success. PACE has a positive impact in our community, seeing decreased rates of juvenile justice system involvement and increased graduation rates for teen girls.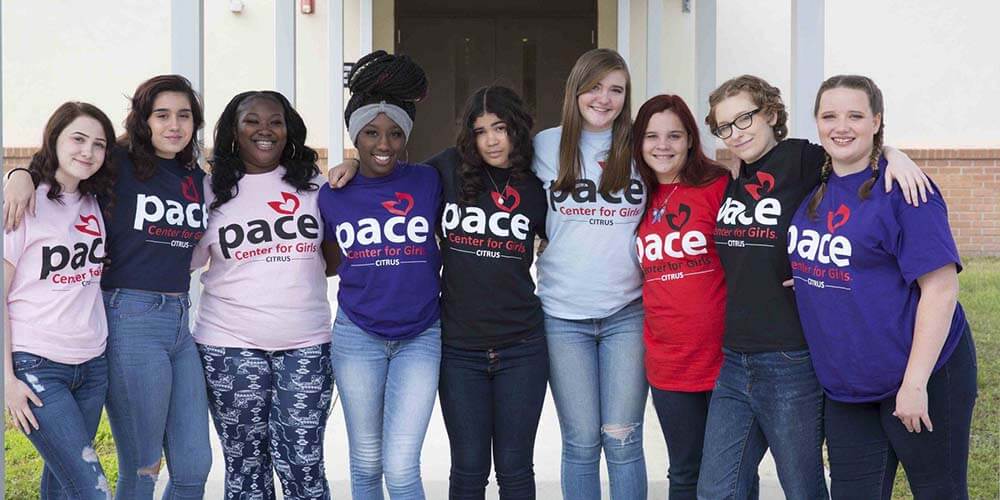 Withlacoochee Technical College – Dual Enrollment/ Workforce Education
Withlacoochee Technical College (WTC) has been in operation since 1968 successfully fulfilling the demand for a qualified and skilled workforce. WTC consults with local business owners for future trends and to ensure its students are being prepared for immediate employment in our growing community. WTC offers programs of study in the following career clusters: Architecture and Construction; Business Management and Administration; Health Science; Hospitality and Tourism; Human Services; Information Technology; Law, Public Safety, Corrections, and Security; Manufacturing; Transportation, along with Distribution, and Logistics. WTC is ranked among the top five Practical Nursing Programs in the state and prides itself with providing the highest quality academic and innovative technical education for current and emerging careers. WTC not only offers dual-enrollment opportunities for our local high school students, offering incredible savings, but also offers community education and workforce development courses.
Seven Rivers Christian School
Seven Rivers Christian School (SRCS) is a college-preparatory school providing a robust academic program in an environment where the Reformed Christian faith forms the foundation for all learning. Serving approximately 500 students pre-K through 12th grade the private school was founded in 1988, and is accredited by the Christian Schools of Florida, the national Council for Private School Accreditation, and the Southern Association of Colleges and Schools/AdvancEd. SRCS is recognized by the Florida Association of Academic Nonpublic Schools and is a member of the Florida High School Athletic Association. The school offers Advanced Placement and Dual Enrollment for high school students, need based scholarships, and has been approved by the Student and Exchange Visitor Program to host international students.